C2 Records crowns music contest winners
Two CCU students walked away from a competition with cash prizes and signed record deals with C2 Records.  
On April 24, C2 Records, an organization seeking new musical talent in a competitive music contest, held a competition at CCU that began with 16 contestants in elimination rounds. The winners of each round were promoted via social media and C2, and the top two competition winners received cash prizes, recording contracts, and were able to perform a live concert with previous winners on the C2 label. C2 Records is an organization seeking new musical talent in a competitive music contest.  
This C2 event was promoted by sponsorship from the Edward College of Humanities and Fine Arts. The University's WCCU student radio station and TEAL Nation Communications class also assisted in covering the event and promoted the songs and artists involved. Julian Bateman, Charlie Martinez, Nick Dyers, and Celina Vargas were the performers in the final competition.  
With their full songs on YouTube and voting polls in place, students were able to narrow their choices down to two contestants that went head-to-head.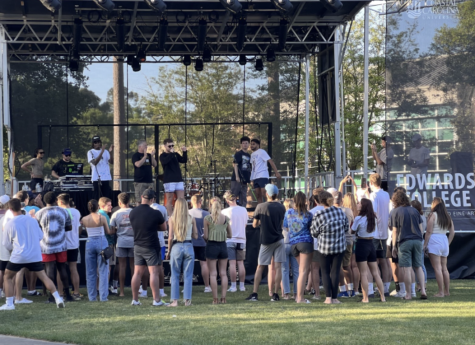 After all the contestants performed their songs, including three artists who were previously C2 Records winners, the voting began. Bateman and Martinez were the final two and everyone casted a vote leading to the announcement that both Bateman and Martinez won by a tie. Both contestants won cash prizes and a record deal with C2 Records.  
"It was my very first performance, it was very nerve-racking I will say. My heart was racing on that first song, but I got it figured it out the second time around," Bateman said. "It was fun, definitely a great experience having all the homies come up to the stage and everything, it was a lot of fun." 
The other winning contestant Martinez said he was taken away from the fact the competition ended in a tie.  
"It was crazy, I didn't expect that it would be a tie at all, I don't think anyone really did. But it's a good feeling and I feel accomplished," Martinez said. "It has been a long time coming, been making music a long time. I am really happy and I give all the glory to God."
Leave a Comment