Provost Daniel Ennis named ninth president of Delta State University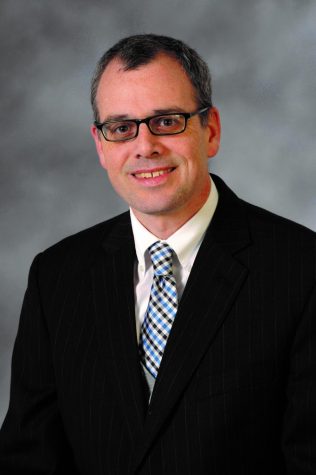 Provost Daniel Ennis plans to leave for Delta State University after more than 20 years at Coastal Carolina University.
According to an announcement from Delta State University, Ennis has been appointed as their ninth president by the Board of Trustees of State Institutions of Higher Learning. He will begin serving in his new position starting June 1.
During the faculty senate meeting March 29, Ennis spoke on his departure and apologized for the circumstances under which the news was broken. He said he took part in a closed search for candidacy as a president in order to explore new job opportunities without giving the impression to his colleagues that he had "one foot out the door."
However, due to the nature of this type of search, he said there was a news leak March 28 four days before the official announcement was planned. As such, he said Delta State University wanted to advance the announcement.
"So, instead of having multiple days to go to all of the important people that I care about and let them know my news," Ennis said. "I only had a few hours, and so there are many people in this room and on this campus and in this community that found out on social media. I wish it had not been this way."
In a provost update emailed to campus on March 29, Ennis discussed the departure of Holley Tankersly as dean of the Spadoni College as she will assume her new position at the University of Tampa as dean of the College of Social Sciences, Mathematics and Education on June 15. There, Ennis wrote of his admiration of Tankersly in addition to hinting towards his future departure from Coastal.
"Good deans are hard to find," the update said, "Provosts, on the other hand, are a dime a dozen. If it were not beneath the dignity of the occasion, I'd put that winking emoji in here."
Ennis has been with Coastal since 1999 starting as an assistant professor of English. He has served in his current position as provost and executive vice president since 2021 but has also served in many others since he was first employed at the university. Prior to his current position, he served as provost and vice president for academic affairs starting in 2019, dean of the Edwards College from 2012 to 2019, and as vice president for academic outreach from 2014 to 2019. He also served as chair of the Department of English and as co-director of the Honors Program.
In his address, Ennis spoke about his history with the university and said leaving is a bittersweet moment for him.
"I didn't know that I would ever leave this institution. I'm very excited about what I get to do with the next chapter of my career, but I do not diminish my gratitude or my love for Coastal Carolina and all of the people that make this place—have made this place what it is," he said.
President Michael Benson also spoke on Ennis's departure during the meeting and said there are plans for an advisory committee that will find a successor.
"I'll miss him as a friend and a colleague," he said. "We will, however, as we move forward, make sure that our process is open and transparent and participatory, so you'll hear more about an advisory committee that we're anticipating will probably be seven people."
Leave a Comment