SZA shines on tour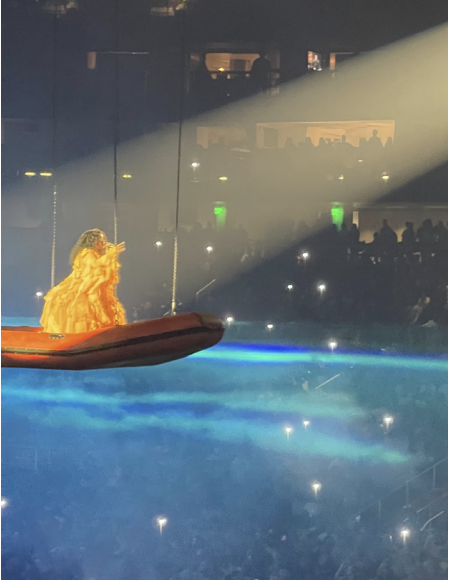 SZA's sophomore album "SOS" has proved her growth as an artist and her brilliant ability to sing deeply about her emotions.
Since the album's release on Dec. 9, 2022, it has been a major success. "SOS" has spent 10 weeks at No. 1 on the Billboard 200 chart. The artist is familiar to the chart as her 2017 album, "Ctrl" debuted at No. 3 on the same chart.
The album opens with the song "SOS," including a segment during her show with the actual SOS signal. This set the tone for an album that resonates with the feeling of being lost, which makes you think, cry, and feel love.
The lost at sea vibes flowed from the songs into her tour performance. I had the honor of seeing the SOS tour live in Atlanta on March 7. During the show, she brought out special guest and singer Summer Walker to perform their hit "No Love." Rapper Lil Baby also came out to perform a solo.
One of my favorite parts of the show was the set designs. The show opened with a scene identical to that of SZA's album cover. She was on what appeared to be a diving board with the vast blue ocean scene behind her.
After she "hopped" off the diving board, more props accompanied her. A boat was on stage with projections that appeared to be waves crashing behind it.
In the second half of her set, she was lifted on a raft above the crowd, and a huge lighthouse popped up next to her. Her team knew what they were doing with her set as the creativity clearly shined through.
Her album includes the No. 1 hit single, "Kill Bill," which she performed during her set. Aside from being popular, this song is derived from the movie "Kill Bill" which SZA referenced in her music video released on Jan. 10.
I enjoyed hearing SZA's perspective on relationships throughout the album. On "Low," she talks about keeping her relationships secretive, accompanied by a bass-dropping, R&B beat.
SZA gets vulnerable with "Ghost in the Machine (feat. Phoebe Bridgers)," which talks about wanting a distraction from the music industry and hardships in her life. Lyrics like "Can you distract me from all the disaster? Can you touch on me and not call me after?" puts her feelings into perspective on a casual relationship that switches her focus from the mess going on. The song ends with the quote: "Those who have forsaken their humanity, they like to patch their life with morality."
SZA shows vulnerability during her song, "Special." Alongside a catchy beat, the singer talks about the haunting reality of insecurity and how she hates how former partners made her feel. Similarly, "Nobody Gets Me" is about how she could never see her partner with anyone else.
Along with the depth of emotion, the album delivers beats and bass that sound great blasting in your car. Songs like "Shirt," "Seek & Destroy," and "Open Arms (feat. Travis Scott)" will make you want to roll your windows down and sing along to the lyrics.
Although only on her second album, SZA is a top-charting artist close to records set by other icons like Taylor Swift. It will be exciting to see how "SOS" continues to dominate the music industry.
Leave a Comment