Lacrosse season starts with a bang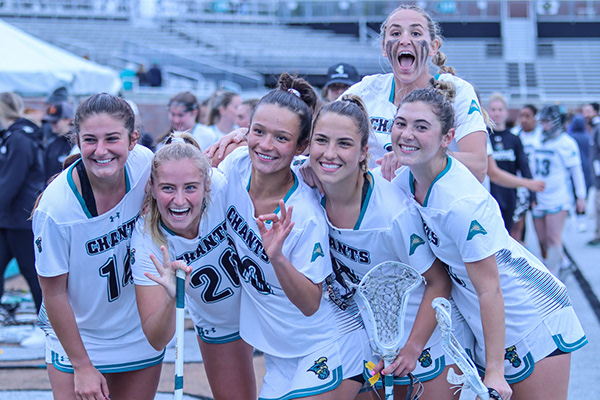 On Sunday, Feb. 12, the women's lacrosse team defeated Presbyterian College in their season debut 20-3 in front of a home crowd at Brooks Stadium.  
 From the first whistle, the game was lopsided. The ball was heavily kept on the offensive side of the field for the Chants throughout the game, allowing only 15 total shots as opposed to the 35 they took. Of these 35 shots, Coastal took 26 shots on goal and scored 20 times, whereas Presbyterian shot only nine times on goal and were only able to capitalize on three. 
 The Chants had 12 different scorers with six of them scoring more than once. The offensive leaders for the Chants started with graduate students Hope Steuerwald, who led all scorers with four goals. Sophomore Brigid Cardillo matched Steuerwald in points (goals plus assists) with four on two goals and two assists, and graduate student Gabrielle Beckett scored once and assisted on two goals.  
 Steuerwald said she was happy with her team's production and felt as though this game hinted at the potential for a successful season. She said the team's strength is unpredictable to allow them to attack in many different ways. 
 "Being able to have 12 different scorers is unbelievable and shows the talent this team has," Steuerwald said. "I think we are in a great place going into this season and with the confidence boost from Presbyterian. I expect a great and exciting season ahead." 
 Redshirt junior goalkeeper Claire Martell was awarded the win for the game with four saves and two goals allowed in 30 minutes of playing time. Of the nine shots on goal, the three goalkeepers for the Chants including Martell, sophomore Kennedy Manning, and sophomore Charlotte Sadler combined for six saves. Six saves on nine shots on goal is another statistic that established optimism for the Chants. 
 The Chanticleers play next at home versus Davidson College on Sunday, Feb. 19 at 12 p.m. 
Leave a Comment