Preserving history with Douglass Day celebration
The Digital Culture and Design (DCD), English, and Interdisciplinary Studies (IDS) departments celebrated Douglass Day with three campus events on Tuesday, Feb.14.  
The events honored the life and achievements of African American abolitionist Fredrick Douglass on his chosen birthday of Feb. 14, while also bringing awareness to the history of Douglass Day. 
Coastal Carolina University Assistant Professor and DCD Program Director Sarah Lozier-Laiola said the idea of Douglass Day started with African American activist Mary Church Terrell.  
"She started Douglass Day as a celebration to codify Black History," Lozier-Laiola said.  
The holiday was created in the late 19th century after Douglass's death on Feb. 20, 1895 when Terrell saw the importance of honoring his memory and encouraged others to do the same. From advocating in Washington, D.C., that children should learn about Douglass's work to contributing to Douglass's legacy, Terrell set the foundation for Black History Month.  
First event: Transcription Jam 
While Douglass Day celebrates the most known African American scholar and abolitionists from the 19th century, the celebration shed light on the many contributions from other African American scholars and activists.  
CCU started the day off with a Transcription Jam and highlighted the work of Mary Ann Shadd Cary, who was the first Black woman to attend law school at Howard University and serve as a recruiter for the Union Army during the Civil War.  
During the event, students were able to look at historic documents from Shadd Cary and digitize her work to be more accessible to everyone. 
Lozier-Laiola said there is significance in interacting with these documents. 
"There's some power in that practice that we don't usually get to encounter," Lozier-Laiola said.  
Throughout the event, students listened to music and ate as they transcribed documents.  
DCD major Troy Penning said he was glad he went and encouraged students to attend future events. 
"This is definitely something I can see myself doing more, either about her or other people as well," Penning said.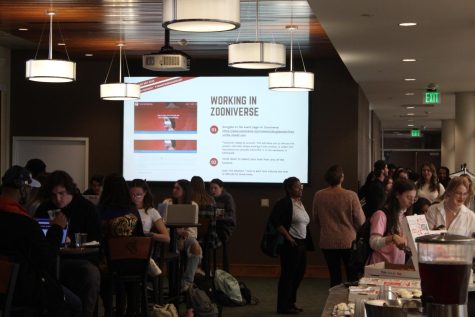 Second and third events: 
Later in the day, a Frederick Douglass historian presented a "Living History Performance" in the Wall Building and Edwards Black Box Theater. 
The historian, published author, and performance poet Nathan Richardson embodied the abolitionist's physical and spiritual essence in the Frederick Douglass Speaking Tour for eight years. The tour is meant to educate audiences on the importance of Douglass's contributions as an activist and their pivotal role in U.S. history.  
"It is easier to build strong children than to repair broken men," Richardson said as Douglass.  
Richardson emphasized the distress and danger Douglass experienced as an enslaved person who was determined to read and write. He said an educated slave was worthless to a master, and Douglass was tortured with lashes to "break" his literacy.  
"Once I had a few letters to describe my misery as a slave my mind became free and thus my body had to follow," Richardson said as Douglass. "You cannot enslave a free mind." 
He continued to say Douglass honed his skill as an orator with the book, "The Columbian Orator" which he purchased with the 75 cents he earned shining shoes in the streets.  
Two Coastal students Rin Graham and Isaiah Cook helped deliver the first poem Douglass learned to recite, "Lines Spoken by a Boy of Seven Years." The poem refers to Roman and Greek philosophers Cicero and Demosthenes.  
Graham said she intends to read the poem again and study how these philosophers inspired Douglass. She was not surprised these figures influenced Douglass as she said we refer to them for theory, science, and even democracy. 
"At the end of the day, some people are going to go all the way back to figure out 'where did this come from,' 'why do we have this idea?'" Graham asked. "And I just feel like [Douglass] was that type of person when he was alive." 
Richardson recited excerpts from two of Douglass's famous speeches including "What to the Slave Is the Fourth of July?" 
Cook said this performance was one of his favorite experiences on campus. 
"I loved the energy that Nathan brought to the performance," Cook said. "I wasn't expecting it to feel like that was actually Frederick Douglass in front of me, but I was met with Frederick Douglass." 
Richardson covered Douglass's activism for women's suffrage, and delivered a portion of the speech he gave at the first women's rights convention promoting "Declaration of Sentiments."  
At the end of the workshop, Richardson spoke as himself about his career as a living history performer. He said his schedule is often booked throughout February, and when he is unavailable some clients say they will try again the next Black History Month. In response, Richardson said he is Black all year long and Douglass's legacy exists every day.  
Leave a Comment