"Disintegration" by The Cure
Aside from the high energy and signature '80s glam, let's look at the wave of gothic themes in culture that boomed with bands like Misfits, Bauhaus, Sisters of Mercy, and of course, The Cure. I'd like to review one of their romantic albums, "Disintegration."
Aside from the high energy and signature '80s glam, let's look at the wave of gothic themes in culture that boomed with bands like Misfits, Bauhaus, Sisters of Mercy, and of course, The Cure. I'd like to review one of their romantic albums, "Disintegration."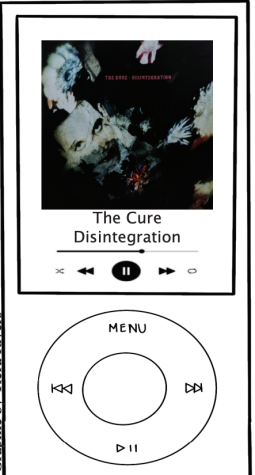 Next up is "Pictures of You," a longer song but a tender one. This song has a beautiful, sentimental feeling and focuses on the idea of wishing for more time and chances to say what was left unsaid. "Closedown" lacks lyrics but has just as much heart.
One of the songs The Cure is most known for is "Lovesong." This upbeat, catchy song features a mix of guitar and synth to match the vocals, but still has depth to its meaning. The lyrics drive it home as a song about how true love is timeless no matter the circumstances.
Following the previous tune is "Last Dance," featuring a solid bass line and brings the album back to a slow, personal pace to Smith; some lines hint at how he knew his wife when they were both young teenagers and how time has changed. To me, there is a component of nostalgia and the desire for what once was.
Contrasted to the other songs on the album, "Lullaby" is not about love. This song creates a creepy atmosphere, while still insanely captivating, that is hard to find in most music. Picking up the pace is "Fascination Street," which has more of a pop-feel with its bass line and unique piano set.
Following the pop genre, "Prayers For Rain" maintains the melancholic feel of the album but stresses a gloomy tone presumptively about an abusive relationship. Next is "The Same Deep Water As You." Coming in at almost nine and a half minutes, this song is packed with emotion to create a roller coaster of an atmosphere of what he is feeling.
The album titled "Disintegration" ramps up the synths and bass. This hit is one that comes at you with some more intensity and implements a wave of emotion. Next is "Homesick," continuing the synth trend but also stars keys and brought in some lovely violin into the mix as well.
To close out the album, "Untitled" relays a great message in the lyrics, and it winds down the whole album.
In the end, this album is solid as there are not any tracks I would go out of my way to skip. My top picks are easily "Lullaby," Lovesong," "Last Dance," and "Fascination Street." These tunes stuck with me, I connected with them, and I enjoyed them.
Leave a Comment