Painting the town purple: "Light up the night" 5k for relationship violence awareness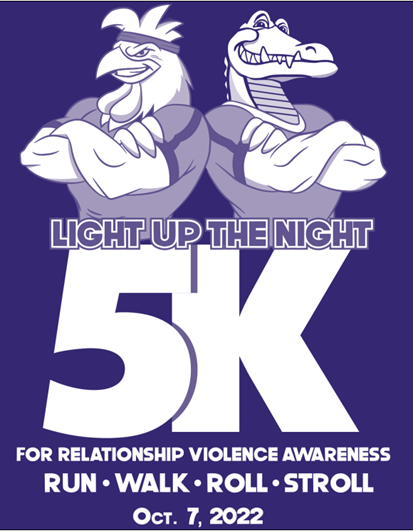 CCU and HGTC are hosting a 5k for relationship violence awareness called "Light Up the Night" in honor of National Domestic Violence Awareness Month this October.
The 5k is on Oct. 7 at 7:30 p.m. on Coastal's campus and will end at Brooks Stadium. The event is open to students, faculty, staff and the local community.
The idea for the fundraiser came from Beverly Willhelm, victim services coordinator. She has been involved on campus for about six years, and worked closely with those who have experienced domestic violence and other issues.
Additionally, she has become an advocate and prides herself in helping victims find relief and resources.
She said this is the first event on campus that highlights domestic violence awareness.
"Since I have been here, there haven't been many events surrounding domestic violence awareness month. So I thought, 'let's paint the town purple,'" Willhelm said.
The color purple is a dedication to ending domestic violence. At the run, all participants will receive purple shirts in solidarity with victims and advocates of domestic violence.
The cost to participate for CCU and HGTC students is $20 and $35 for faculty and staff .
The proceeds will be allocated to the Chanticare Fund, also known as the Victim's Assistance Fund. From medical bills to property damage, the money will be used to help those who have been a victim of domestic violence, regardless of where the incident occurred.
According to Willhelm, statistics show between one in three women and one in four men have been a victim of domestic violence. These numbers show domestic violence can happen to anyone, and Willhelm said it is important to help shed light on this issue. In anticipation of the event, those who are participating can train with CCU students Kayla Runey, a junior fitness instructor, and Julian John, cross country athlete. Runey encourages runners of all levels to participate if they are interested.
Leading up to the race, Runey and John will hold training sessions every Tuesday and Thursday for six weeks. In addition to helping participants prepare, they are spreading awareness while bringing people together.
"Not only are we working out, but we're also meeting and talking to new people," Runey said. "It's cool to see what everyone's goals are."
The deadline to sign up is Oct. 7. Those interested can sign up at https:// runsignup.com/Race/SC/Conway/ CCULighttheNight5k.
Leave a Comment