Coastal Carolina football makes program history
The Chanticleer crowd exceeded the occupancy of Brooks Stadium during the game against Army this past weekend.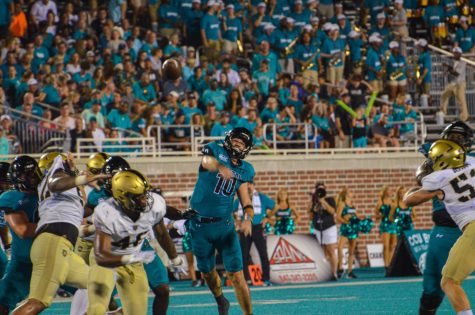 The Coastal Carolina Football program had three things to celebrate Saturday night: the 20th anniversary of the program, a sellout crowd with record attendance, and the program's 150th win.
The team has appeared multiple times in the AP Top 25 Rankings and College Football Playoff Rankings, along with gaining notoriety amongst mainstream sports media outlets. Chanticleer fans have seen this progress and embraced the passion the team brings. With the team posting a combined 22-3 record the past two seasons, this year brought not just higher expectations, but also a growing sense of excitement.  
The excitement for the season opener against a well-known opponent Army, brought a sellout crowd and a record attendance of 21,165 to Brooks Stadium. The Coastal Football team also picked up the program's 150th win during its 20th anniversary season. Everything seemed to have lined up perfectly to start the 2022 season for the Chanticleers.  
 The team looks to start 2-0 as they take on Gardner-Webb at home Sept. 10. 
Leave a Comment