New women's basketball head coach should be named soon
A new women's basketball head coach should be named soon, following a national search. 
Weeks after the Chants were defeated by number 1 seed Troy in the second round of Sun Belt Conference Championship play, it was announced that Head Coach Jaida Williams will not be returning next season.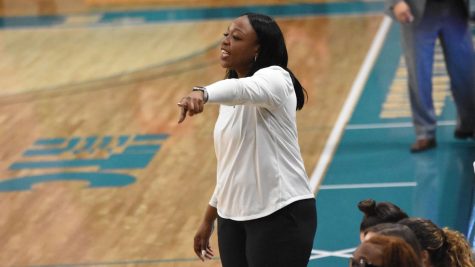 Williams coached nine seasons with the Chanticleers, with a record of 129-127 over that span of time. This past season, the Chants finished with a record of 15-11, earning the ninth spot in Sun Belt standings. 
The Chants' best season with Williams as head coach was during the 2019-2020 season when they posted a 25-4 record. Williams also earned the Sun Belt Coach of the Year award in 2019, and the Chants finished with a 15-3 record in the Sun Belt. The team's winning season was cut short due to the pandemic ending the season early. 
Coaching changes are a part of the game, and the search for a new women's basketball head coach is going very well, said Vice President of Intercollegiate Athletics and Univ Recreation, Matt Hogue.  
"We do not have an absolute timeline on selecting a coach, but it is important to install someone as quickly as possible to utilize the remaining scholarships and have them in before the next season," Hogue said. 
Hogue said some of the current players may choose to transfer, but the team will remain strong. 
"[I] spoke to the team multiple times, and [players] they understand it will take some time to get a coach," Hogue said." [With] any coaching change, there will be a turnover on the roster. No one is concerned or panicked, it comes with the territory." 
Leave a Comment