No. 1 Scottie Scheffler takes home elusive green jacket at the Masters
The talk throughout the Master's tournament was about five-time champion Tiger Woods, but the spotlight quickly shifted to Scottie Scheffler as he continued his hot streak with an impressive win.  
Woods was playing in his first competitive golf tournament since his horrific car accident back in Feb. 2021. He made the cut with a +1 after the first two rounds, a feat Woods has accomplished 22 straight times at The Masters. Although he finished the tournament at +6, most golf analysts and fans were impressed that Woods was even able to play just 14 months after his accident.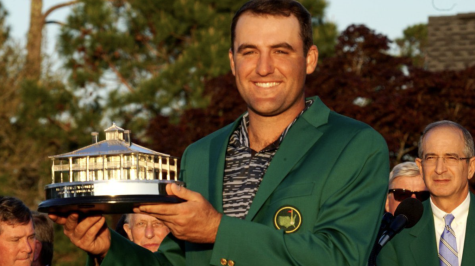 World No. 1 golfer Scheffler didn't have any PGA Tour wins before 2022, but since Feb. he's won four tournaments, including The Masters. Scheffler was dominant throughout the tournament and held a five-stroke lead going into the weekend, tying The Masters record. At the final hole, he was at 12-under with a five-stroke lead.  
To the humor of the patrons, Scheffler four-putted the hole which resulted in a double-bogey. He still comfortably finished the tournament at -10 and took home the green jacket. 
Leave a Comment