The purpose behind the HTC gym dress code
New fashion trends arise every day for all genders in the fashion world of 2022. However, these trendy tank tops and cropped shirts will never be revealed at Coastal's gym. Brands such as Gymshark and Fabletics are known for creating comfortable athleisure that conflicts with the gym's policy at times. 
Many students across campus have mixed feelings toward the HTC gym's dress code policy, or they didn't know there was one at all.  
The dress code policy has been around since August of 2012 when the doors to the facility opened after moving from the Williams-Brice building. There was a form of dress code policy prior to 2012 as well. 
Tara Josey, associate director of university recreation, said it is important to create a policy when hundreds of thousands of dollars are being spent on equipment. The goal is to limit as much skin-to-pad contact as possible to protect the individual and others from skin and staph infections such as Methicillin-Resistant Staphylococcus Aureus (MRSA).  
"I mean, when you're in a gym environment, there's so many liability issues of not just people getting injured, but getting sick, getting all these other things. And so, we try to do our best to keep a clean facility, but also our users are doing their part by wearing things," Josey said. 
According to the HTC policy, t-shirts that have been altered or cut to expose skin, shirts that expose midriffs, shorts and pants that have exposed buttons and zippers, and any type of open-toed shoes or boots are prohibited in the facility. Any "abusive/offensive language" will also not be tolerated.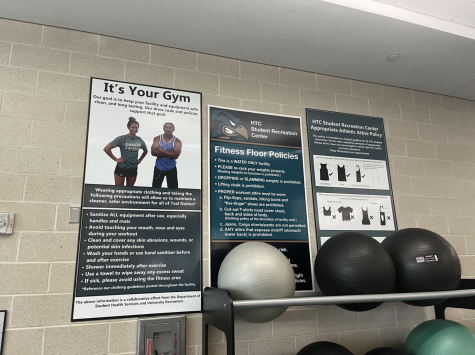 Clemson University has a dress code in their gym as well that is very similar to Coastal's. The University of Charleston doesn't have a specific code, and the University of South Carolina requires gym-goers to "dress appropriately." Josey mentioned the graphics hung around the gym are to clarify the vagueness that comes with the word "appropriate." 
"A lot of times when people are creating policy, they don't start from scratch. It makes sense to reference what a similar organization or institution is doing instead of reinventing the wheel," said Amanda Siegrist, associate professor of recreation and sport management. 
According to CHANT411, there isn't a student dress code across campus, and student handbooks are no longer provided. Siegrist said it is important to have an attire policy because students do things differently in a gym than a classroom. There are some dress codes for labs and science buildings, such as students being required to wear long pants and close-toed shoes. 
Some students, such as Freya Duvall believe most dress codes are directed toward a female audience.  
"I think nine times out of ten, dress codes are more targeted towards girls or people that have feminine bodies just because they have feminine bodies, which is not fair in the slightest," Duvall said. 
Ian Bernard, also a CCU student, said it's "not too big of a deal" to have a policy in the gym. He mentioned that he typically wears t-shirts and shorts while working out. 
Duvall initially was not aware that there was a dress code. She said she understands the logistics of implementing a policy, however it should apply to all genders.  
Josey said it's not their intention to target anyone specifically. Both she and Siegrist mentioned that females have more of a variety in gym attire, such as crop tops, tank tops, sports bras, and matching sets. 
"We don't want people, males or females, dressed too revealing because this is a professional university where we're in a learning environment, and so the focus needs to stay professional with minimal distraction," Siegrist said. 
Josey said she would be nervous if there were no policy created. She said the student workers face many challenges regarding complaints about the dress code and they don't want to turn anyone away from the gym, which is why they offer T-shirts to those who are not dressed appropriately. 
"It's not our role to tell you what to wear, but it is our role to keep you safe while you're here," Josey said. 
Jody Davis, director of university recreation, was credited for making the policy, while Josey was there for the discussions when it was implemented ten years ago.
Leave a Comment
About the Contributor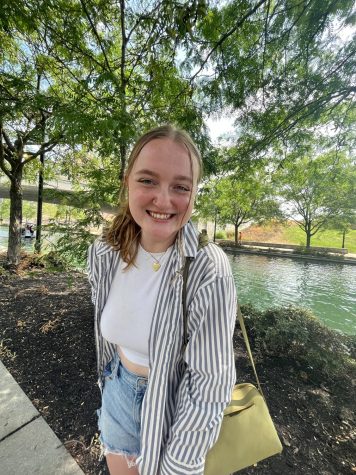 Madison Sharrock, Assistant Editor
I am Madison Sharrock, the Assistant Editor of The Chanticleer. Currently, I am a sophomore Communication major with a focus on Interactive Journalism....