The American Red Cross declares a national blood crisis
The American Red Cross declared its first-ever national blood crisis on Jan. 11, 2022.
 In a statement written in mid-January, the Red Cross said they had to cancel various blood drives due to the COVID-19 variant, Omicron. Most donors and Red Cross employees have been absent due to the pandemic.  
 The Red Cross said all blood types are needed, including O positive and O negative. Blood and platelet donations are needed to reverse this crisis since blood cannot be manufactured. 
 "Amid this crisis, doctors have been forced to make difficult decisions about who receives blood transfusions and who will need to wait until more products become available," the American Red Cross said.  
 For national blood donor month in January, many companies set incentives to increase the number of donations to the Red Cross. According to an article by The New York Times, those who donated blood or platelets received a free dozen glazed donuts from Krispy Kreme.  
 They also partnered with the NFL in January by entering those who donated a chance to go and watch the 2022 Super Bowl in Los Angeles. The Red Cross' website said the winner will receive a round-trip ticket to stay three nights in LA, along with a $500 gift card for other expenses. 
 The Times said February donors will receive a $10 Amazon gift card. The Red Cross is holding a blood drive on Coastal Carolina's campus on Feb. 15 from 9 a.m. to 5 p.m. 
 For eligibility to give blood, one must be 17 years old, weigh at least 110 pounds and be in good health. Those who are vaccinated for COVID-19 may also donate, but the Red Cross said to bring the vaccination card to determine eligibility based on the manufacturer.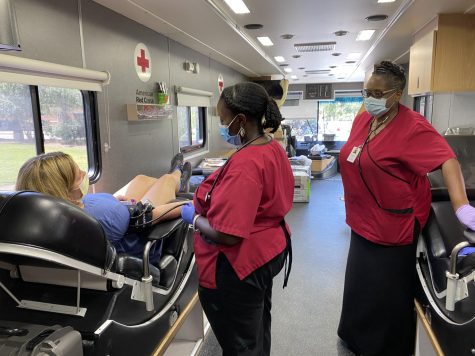 Use the Red Cross Donor App, visit RedCrossBlood.org, or call 1-800-RED-CROSS to set up an appointment.  
Leave a Comment