Black History Month time to reflect on CCU's progress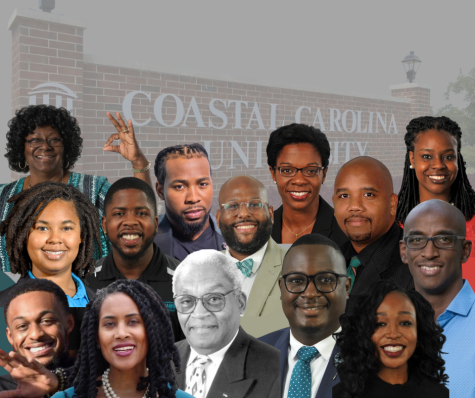 It may be hard to tell when nearly 20% of Coastal Carolina's population represents the African American community, but CCU has come a long way in terms of diversity and inclusion.   
In recent years, CCU implemented various positions and groups on campus with the intention of encouraging inclusion and diversity. Some of the efforts include the creation of the Center for Inclusive Excellence in the Edwards College. Political science Professor Atiya Stokes-Brown was appointed as vice president for diversity, equity, and inclusion (DEI), and she serves as CCU's first diversity, equity and inclusion officer.  
Additionally, Gary Schmidt, a professor of German in the Edwards College, was named the college's first director of DEI. These actions show CCU's willingness to become a more diversified institution.  
"I do think there's been a tremendous growth curve within the last four years," Stokes-Brown said. "Diversity, equity, and inclusion is a marathon, it is not a sprint, and we have many, many goals to accomplish, many of which are included in our diversity, equity, and inclusion strategic plan." 
There was a total population of 16.2% of Black/African American students on campus according to fall of 2021 enrollment trends. That is compared to 67.7% of Caucasian students, 4% of two or more races, 1.1% Asian and 6% Hispanic.  
Senior Jimmie Clyburn said he believes offices on campus, such as the Intercultural and Inclusion Student Services (IISS) serves as a place of fellowship for students seeking a place of acceptance.  
"I think coastal does a really good job giving their students of color different avenues and programs because being on a PWI it's kind of hard to come together," Clyburn said. "So I think the IISS office does a really good job in letting us have a place to kind of be who we are as a community." 
Howard University alumna and CCU Masters of Communication student Krystal Dotson said her time at a Historically Black College/University (HBCU) opened her eyes to what it means to be a part of an institution's rich history. She said Howard shaped her into the person she is today with the spirit and energy of the campus.  
"I can say hands down that I wouldn't be the wife, mom, student, community leader, the person that I am today, truly, without that experience, and I know that I could've gotten that from a PWI or even another HBCU, but I do believe in divine appointment," Dotson said. "I know that for me personally there is no other place that would've shaped the person that God intended for me to be without being a graduate from Howard University."  
On Jan. 31, one day before Black History Month, six HBCUs nation-wide were attacked with bomb threats. The threats were later investigated by the FBI. Coastal, Major of Operations in Public Safety Bobby Pellerin said during his 17 years at CCU the campus has never received a bomb threat.  
Coastal has come a long way from what the institution was when its doors first opened. CCU opened in 1954 with only white students enrolled and offered night classes at Conway High School.  
According to "Brick by Brick," a book by the Athenaeum Press, it wasn't until Jan. 7, 1965, the first African American woman, Costello Nicholas, applied to the school.  
George L. Williams Sr. was the first African American instructor at Coastal Carolina. He began his teaching career at Chestnut High School, then became the vice president of Conway High School in 1956. Then, in 1969 he started teaching at CCU, where he stayed until 1974.  
Williams graduated from a high school in Florence, SC and served as the first and only African American principal in Horry County from 1974 until 1986. He worked at North Myrtle Beach High School.  
Stokes-Brown said Williams was the first director of what Coastal now calls the Intercultural and Inclusion Student Services Office.  
"He played a pivotal role in creating the inclusive environment and space to welcome people from underrepresented groups," Stokes-Brown said.  
Stokes-Brown said it's important to celebrate Coastal's achievements and the contributions made from several individuals such as Williams. She said Black History Month is an opportunity to recognize the rich history rooted within the university and world-wide.  
"It's only through the sharing of knowledge that people actually begin to grow," Stokes-Brown said. "They begin to grow in terms of their intercultural competence and their knowledge, and it increases the opportunity for people to engage across differences."  
CCU has an access, inclusion and diversity strategic plan for 2021-2026. Some of the university's areas of focus include representation, equity and access, campus climate, inclusive teaching and professional development, and institutional leadership and accountability.  
For more information about Coastal's DEI initiatives and strategic plan, visit Diversity, Equity and Inclusion – Coastal Carolina University. To learn more about upcoming events for Black History Month, click here.  
Leave a Comment