Coastal Carolina University faced Duquesne University Sept. 16 in an uneven football match, winning the contest 66-7.  
The Chanticleers dominated on both sides of the ball. Offensively, they racked up 515 yards, 274 passing and 241 rushing. Redshirt senior quarterback Grayson McCall completed 12 of 16 passes for 169 yards and two touchdowns. He rushed three times for 15 yards in the first half before he was taken out along with most of the other starters to preserve themselves as they held a huge lead. 
As for rushing, the team had 35 total carries and were split up by 10 different rushers. Junior running back Braydon Bennett led the way with seven carries for 58 yards and a touchdown. Freshman Ja'Vin Simpkins carried the ball six times for 50 yards and a score. 
Receiving was also a team effort, with no one tallying up more than four receptions and nine different receivers catching a pass.  
Defensively, the Chants continued to play at the elite level they had played in the first two games of the season, racking up four more turnovers. One was a fumble recovery, three were interceptions and two of them were returned all the way for touchdowns. The pick-sixes were made by junior safety Tobias Fletcher and senior linebacker JT Killen. 
"It's pretty funny," Killen said, "I was talking about it all week, like 'I need to score a touchdown, I haven't done that in college.' I talked about it all week, and then it happened. I was almost laughing as I was running down the sideline, I thought it was so awesome. It was a good feeling." 
Fletcher was equally excited to score his first touchdown as well. His interception was the first of his career, and as it was returned 100 yards, it tied the NCAA and Coastal Carolina record for longest interception return for a touchdown.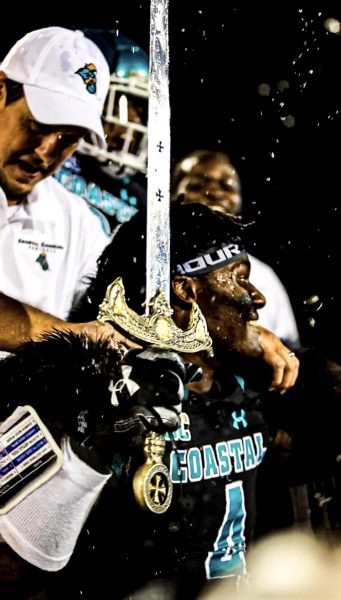 "That was my first career pick, first touchdown, all of that. I crossed the endzone, and I was really just thanking Jesus that I was able to finish because I was getting a little tight. My teammates did a good job blocking for me," Fletcher said.  
The other interception was made by senior quarterback Keonte Lusk, and the fumble was recovered by junior linebacker Mason Shelton. 
This game offered a sense of hope moving forward, as the offense looked explosive, and the defense looked as solid as it had been to start the season. 
The following game on Sept. 21, however, was a completely different story. The Chants lost their Sun Belt Conference opener 30-17 to the Georgia State University Panthers.  
The offense struggled to convert possessions into points, scoring just three in the first half.  
Coming out of halftime, the Chants drove right down the field trailing 17-3 and scored a touchdown in under four minutes to cut the lead to one touchdown. Following this sign of life, the Panthers kicked a field goal to go up 10, while Chant redshirt sophomore kicker Liam Gray missed his second field goal of the game. The Panthers then scored another touchdown making the score 27-10, putting the game out of reach. 
Georgia State kicked another field goal and the Chants blocked a punt and returned it for a touchdown, but there was not enough time for Coastal to complete the comeback.  
McCall went 26 of 42 for 295 yards and a touchdown. Junior running back CJ Beasley rushed three times for 46 yards and Braydon Bennett had nine carries for 41 yards. Sam Pinckney led receivers with six catches for 67 yards.  
This is the earliest the Chants have reached two losses in McCall's starting tenure and it comes during new head coach Tim Beck's first four games with the team. 
The Chants will look to rebound at Georgia Southern University Sept. 30.