Honor continues to grow with tradition
Sustain Coastal held the second annual John Brong Campus Planting Day April 20 in honor of former greenhouse manager John Brong.
Brong died in October 2021, and Senior Director of Campus Environment Jeremy Monday said it was always a vision of Brong's to hold a campus planting event for the community. Monday said the best way to honor him is to have this planting day, which Sustain Coastal started the tradition last year in 2022.
"John would often talk about how folks had their favorite flowers that they love to look at or smell the aroma of, but then he would say if they really wanted to connect with the campus, they would be able to put their hands in the soil, sweat in the sun, and decorate it with mulch," Monday said.
The campus planting event consisted of 18,000 plants to be planted in various places around campus. Those who signed up for the event were split into groups, which were led by Coastal Carolina University horticultural gardeners and groundskeepers. Each group leader explained and demonstrated how to go about the planting process, and also provided gloves, tools, refreshments and ice cream.
Horticulture gardener Mike Hodges said a year and a half ago, there were approximately 20,000 plants in the greenhouse. Between 9 a.m. and noon, he said a few thousand plants were planted by the campus community alone.
Marsha Brong, Brong's mother, attended the event along with a couple of her close friends, grandson, great grandson and other members of the Brong family. She said last year was more emotional, but this year it is a special time to pause and honor her son.
"The students were a big part of my son. He had a lot of students that worked for him in the greenhouse, and his students kind of became like his surrogate children," she said. "I think a lot of them looked at him as a father figure."
Freshman marketing majors Kirsten Maybach and Ella Lehmann attended the event together in hopes to get involved on campus and participate.
"I chose to do this because I wanted to be able to give back to the community, and I wanted to do something and feel good about it," Maybach said.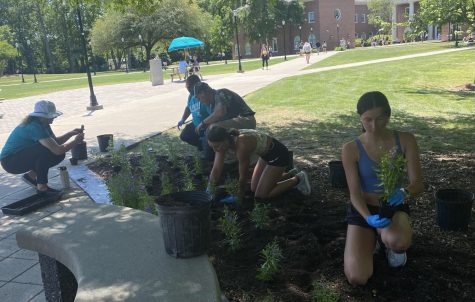 Leave a Comment