Be cool, donate blood
Students lined up outside the American Red Cross trailer April 17 to donate blood for those in need, but also for a limited edition Snoopy T-shirt.
This year, the organization is adding another addition to their history of fun T-shirts given out as an incentive to donate featuring Snoopy. The dog from the cartoon, "Peanuts," made his way onto the shirt sporting sunglasses and lounging in front of a red cross. Underneath him, it reads "Be cool. Give blood."
According to Coordinator for Civic and Community Engagement Leah Levert, 35 people donated blood when the American Red Cross came to campus this Monday.
Bailey Wester, a freshman marine science major from North Carolina, was one of the many students waiting outside for the cause.
"I'm normally hesitant to donate blood because I am scared of needles, but I think it's a good thing to donate," Wester said. "People really need blood. Plus, I like the Snoopy shirt."
Although the mobile donation station was only on campus from 11 a.m. to 3:30 p.m., students are encouraged to donate blood at the local station located in Myrtle Beach. Inside, medical professionals collected blood from students and faculty alike.
The American Red Cross utilizies a lot of volunteers. Medical professionals take time from their day to help collect blood for those who desperately need it.
There are relatively few requirements to give blood. Individuals must be at least 17 years olds weigh at least 110 pounds based on height, and be in generally good health. A form of photo ID is also required.
According to the American Red Cross, 2022 was the worst blood shortage in 10 years. Likely because of the COVID-19 pandemic, this shortage has resulted in a push for more donors this year.
"If you are able to give blood you should," freshmen business major Jackson Price said. "It's pretty easy and they always have cool shirts."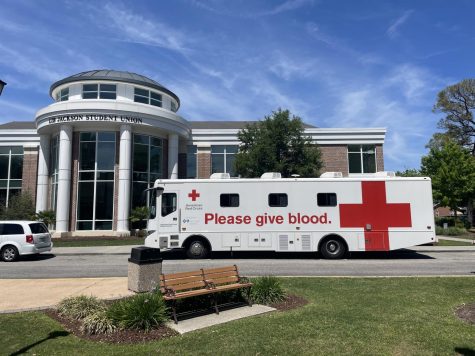 Leave a Comment