The Chanticleer wins big alongside other Palmetto schools
South Carolina Press Association (SCPA) award winners from The Chanticleer brought home plaques of first, second and third place awards as well as Coastal Carolina University's first Mundy Scholar. The SCPA hosted the ceremony at Clemson University and invited other collegiate newspapers from the state to celebrate their achievements. The Chanticleer won three awards in Division H (over 5,000) and three in the Open Division.
General excellence: 3rd Place Sept. 15 2022 and Feb. 24 2022 issues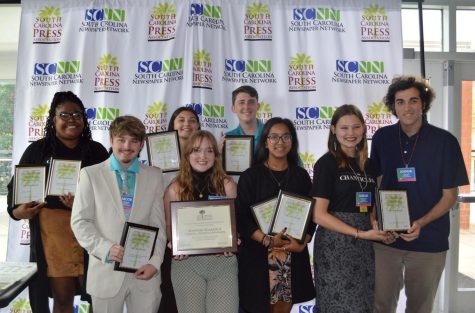 "The fact that the newspaper in general won an award is great because we haven't won an award for the actual newspaper in years because there was a period of time that the newspaper wasn't doing good. Even though it was third place, it shows that the newspaper is actually going somewhere and heading in some sort of direction. It just shows how the newspaper is coming and how much more we have to advance." -Shelbi Ankiewicz
"I think it's very, I guess, humbling to see people that came before me, people that I'm currently working with, to see just how the great things that they've been able to do and that they are being recognized for it. I think sometimes it can be difficult to keep going and to keep working and to feel like you're not making progress, but then to see someone that does recognize that." -Josh Carroll
2023 Mundy Scholar: Madison Sharrock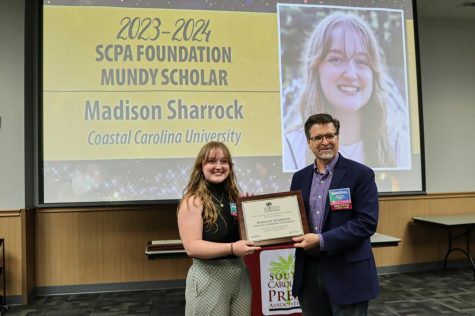 "It kind of makes me want to cry. I never expected any of this to happen. I joined the newspaper as a fun hobby, and quickly became the assistant editor and now am the Mundy Scholar and now won an award with the old editorin-chief Megan, who became a very close friend with me. It's exciting and humbling and surreal. I hope to stick around to see the growth of the newspaper to even further compete with universities like Clemson and The Tiger newspaper or University of South Carolina in The Daily Gamecock because I think one day The Chanticleer could be a legacy newspaper." -Madison Sharrock
The Mundy Scholarship is named after the late president of the South Carolina Press Association Foundation, Frank R. Mundy. The scholarship is awarded to one rising junior or senior student journalist in the state. The Chanticleer's Madison Sharrock was named the 2023 Mundy Scholar for her recognition of her outstanding promise as a journalist. Sharrock is the first Mundy recipient from Coastal Carolina University.
2nd Place News story: Madison Sharrock and Megan Wallace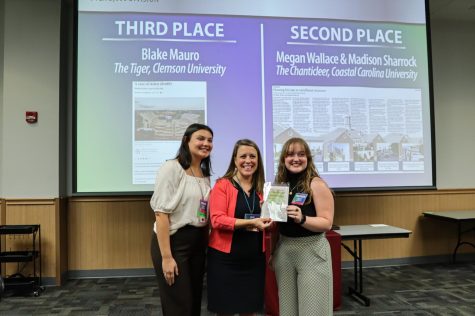 In their article, "Housing hiccups as enrollment increases," former Editor-inChief Megan Wallace and current Assistant Editor Madison Sharrock addressed the overflow of students and lack of beds in September 2022. To combat the issue, Coastal Carolina University students lived eight miles from campus at the Four Points by Sheraton hotel in Myrtle Beach, South Carolina. In the fall semester of 2022, Wallace and Sharrock reported 2,693 freshmen were admitted but only 2,530 beds in oncampus housing were available. Each year, President Benson said administrators expect what they call a "summer melt" when students are accepted to CCU but do not commit, which did not happen.
"I was really excited when I first found out I won the award because I had never won any awards for journalism. We did a really good job, but I need to give myself some credit. I can do good and impactful things that will help people. At the beginning of the year, we branded ourselves as Woodward and Bernstein. And so, when we won this award, it was like the culmination of that whole fantasy." – Megan Wallace
2nd Place Page one design: Jacob Bashura, Tiera Rivers and Sarah T. Jackson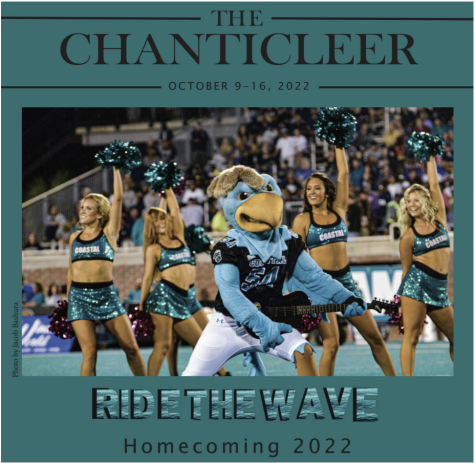 "After three years of working with the newspaper, it's pretty exciting to finally be able to earn one of these awards for myself. And throughout the ceremony, as I'm listening and looking at the different awards, I'm also thinking of how I'm going to improve and do better for next year." – Jacob Bashura
3rd Place Specialty page design: Tiera Rivers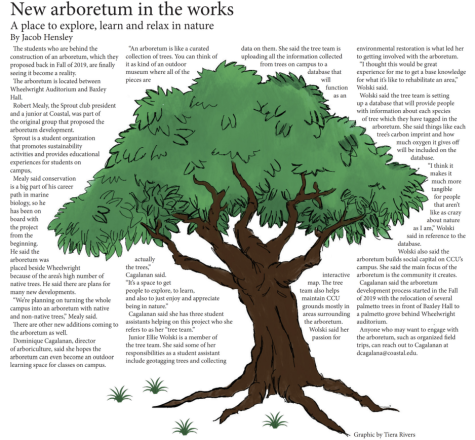 "I was really proud of that because that tree graphic that I won the award for was my first graphic that I drew up for the paper. The award means to me that I am on the right path of what I want to do in the future." – Tiera Rivers
2nd Place Video: Jacob Hensley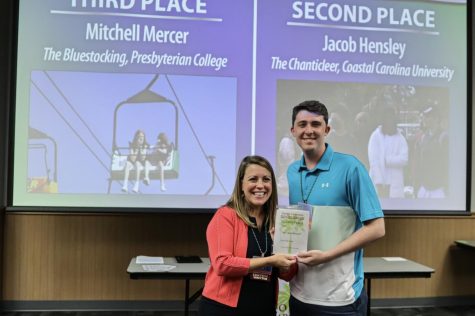 "It was nice to see something good come of my work and to be awarded for it. It was a lot of running around. I remember that day I was dealing with dead batteries for the camera." – Jacob Hensley
Various student organizations such as NAACP, NPHC, and Social Justice Club came together in protest Feb. 18, 2022, during Coastal Carolina University's board of trustees meeting. Students and faculty met in front of the Singleton Building at 9:30 a.m. to protest several issues such as CCU's poster approval process and Turning Point USA's poster about critical race theory. Watch Hensley's full video at https://www.youtube.com/watch?v=uCG5KKEwZTQ.
1st Place Advertisement: Sarah T. Jackson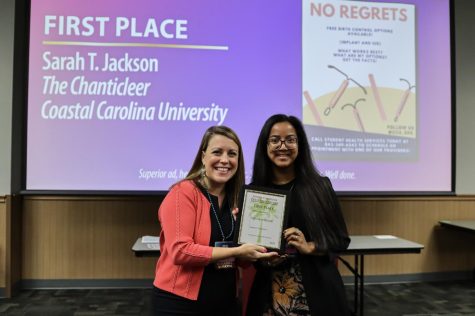 "It's very exciting to know that all my hard work pays off for The Chanticleer, and it's also nice to represent the University in a way that I haven't done before. It's best to share awards because you know that your group collaborates and when you can use these skills in our future careers." -Sarah T. Jackson
Leave a Comment