Crowning royalty at Miss Black and Gold pageant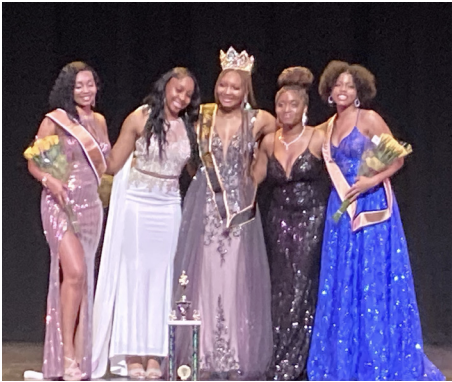 To help recognize and applaud women as role models for the community, Coastal Carolina University's Nu Phi Chapter of the Alpha Phi Alpha Fraternity Inc. hosted the annual Miss Black and Gold Scholarship Pageant on April 2 in Wheelwright Auditorium.
Students Camiyah Binns, Alexis Cornelius, Kaylin Daniels, Aumani Green, Kaci Dozier were the five contestants competing in the event. They were judged on their poise, personality, charm, beauty and intelligence in a series of onstage questions, active wear, talent, and formal eveningwear that progressed throughout the competition. The showcase led to various awards and scholarships being given to all the contestants, a decision that was up to the opinions and thoughts of the judges and audience.
"If you always stay true to yourself, you can accomplish all your dreams," first runner up Miss Nu Phi Green said.
Entertainment did not just occur during the events but also between and after so the contestants could get ready. Amos Wise gracefully sang "Lift Every Voice and Sing" by James Weldon Johnson, The Gospel Warriors spectacular "Praise Dance," and featured some kind-hearted jokes from host and student Shaun Wyatt to pass time. There was even a man named Kevin Emily selling various art pieces inspired by the event in Wheelwright's lobby.
It all led to Dozier being crowned 2023's Miss Black and Gold.
"Congratulations to all the girls since they are the epitome of excellence, grace, and beauty while I wish them the best," Dozier said. "I am grateful for both Nu Phi and the opportunity."
Once the event was over, contestants thanked the judges and audience members for this opportunity, a moment that was leading all parties to tears. Photos, flowers and admiration were originally supposed to be held in the lobby, but guests could not wait that long and quickly ran on stage to quickly capture the moment as soon as possible.
"This was a great experience, and I am so glad that I could be a part of everyone and this event," second runner up Miss 1978 Kaylin Daniels said.
Leave a Comment