"Holy Diver" by Dio
There are many iconic voices in metal, but none compare to the power Ronnie James Dio had in his voice. Dio was an icon in heavy metal who has been forgotten since his passing in 2010. Dio had done music for almost his entire life even when he was diagnosed with cancer.
Fans of "Jojo's Bizarre Adventure" will know one of the major villains, Dio Brando, who is named after the vocalist because of the impact he had in the '80s when it was published.
Dio has many bands under his belt, with some lesser-known ones including ELF and Heaven and Hell, to the famous Black Sabbath and Rainbow. Though the band has several albums, let's look at their first, "Holy Diver."
Opening with "Stand Up and Shout," Dio immediately kicks the album into high gear with a song about being true to yourself. The song encourages the listener to not listen to what other people think, and not sit quiet and idly.
After that is their most famous song, the self-titled "Holy Diver" is a masterpiece song about humanity's greed to horde a saving grace. Instead of changing themselves to be better, they can have a free pass to be evil. Dio himself said if there was another planet just like us and a Christ figure appeared, they would try to keep the savior there for constant salvation rather than changing their ways and letting him go save other societies.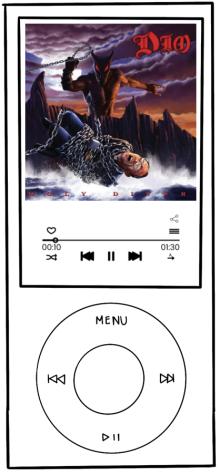 Next is "Gypsy," a fiery song about loving a girl you know is going to betray you, but you just can't stop loving her cause you're too blind to see it. I think we all have had a crush on someone in the past but knew they were not the best thing for us, and this song really captures that experience.
"Caught in the Middle" is a song about being stuck between being victim or victor in the game of life and how we can just be stuck between the two choices.
The next track on the album is "Don't Talk to Strangers," which focuses on how harmful things are not worth the false sense of pleasure they say they give, and to be cautious of what looks too good to be true. Following that is "Straight Through the Heart," which is about how sometimes nothing ever goes right and how life keeps kicking you while you're at your lowest. It's also rumored this song is about the producer's love life going bad time after time.
"Invisible" covers three stories of abuse and how each victim wanted to vanish, become invisible, and just get away.
A classic and popular song by Dio, "Rainbow In The Dark," is about being lonely and stuck while also surging with energy and potential, like a rainbow in the dark. It is also said by Dio's wife, Wendy, that the music video was one of his favorites because it made the vocalist, who was a 5-foot-4-inch man, appear taller.
To close out the album is "Shame on the Night," a classic song about dreading evil clouding over the days. To me, this song seems to be about how suicidal thoughts can genuinely twist your perception of the world around you.
My top picks would be almost the whole album, but let's give ones that are not as famous some light. My top picks are "Stand Up and Shout," "Caught in the Middle," "Straight Through the Heart" and "Shame on the Night" for you to give a listen.
Leave a Comment