Sacred space to share
Prayer room dedication incorporates students of all religious backgrounds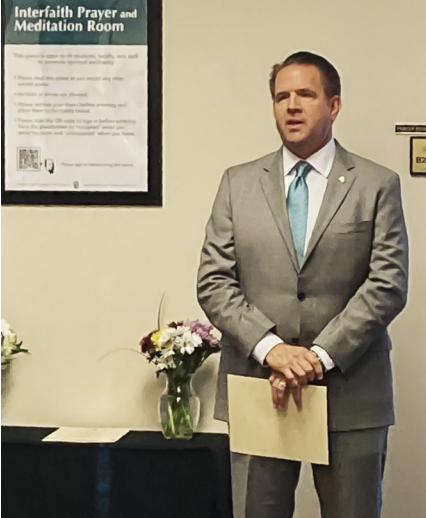 The Spiritual Life Council hosted a ceremony dedicating the Interfaith Prayer and Meditation Room in the Lib Jackson Student Union on March 1.
Located in room B-205 B of the Student Union, the prayer room was created as a tool for individuals on spiritual and religious journeys to find their identity. Numerous people attended Coastal Carolina University's eventful milestone, and the LiveWell Office offered refreshments like tea, coffee, and pastries at the dedication for attendees.
As a branch of the LiveWell Office, the Spiritual Life Council aims to create a sense of community for students, faculty and staff by nurturing hope, peace and joy in a caring environment.
Mark Burlinson, a member of the Spiritual Life Council and pastor of Catch the Fire Church, said the room's dedication was an excellent step for Coastal. He said the space will serve as a place where students can cultivate their spiritual lives.
I encourage all students to reach out to the Spiritual Life Council to help them do that," Burlinson said.
Sophomore Isabella Felts also said she's happy to see the room's creation.
"I am happy for all the faiths that we now have a place to practice our faiths on campus," Felts said.
Various speakers and groups including President Michael Benson, Director of LiveWell Marguerite O'Brien, and the Spiritual Life Council all spoke during the ceremony about their hopes and part in creating the room.
CCU graduate Fitim Saipi, who helped inspire the idea of creating the prayer room, spoke at the ceremony.
"God will guide those that move in the way of God," Saipi said.
To use the prayer room, guests must scan the QR code outside the door to sign in and out before using the room. There, individuals can go inside after taking off their shoes and putting them in the cubby outside of the room.
However, LiveWell stressed the area is not designated to eat, sleep, or study.
The Coastal community of all religious backgrounds is encouraged to stop by and worship in their own unique way.
Leave a Comment