Top Three most inspiring women leaders
In the past, women were expected to choose one path in life: to marry early, have children, and dedicate their life to household chores. Even though women have worked hard to change this narrative over the years, most of us women have no idea what it truly means to be a woman.   
 In order to recognize the efforts of historical female innovators who have contributed to these changes in the narrative, March has been named Women's History Month. This article will feature my top three female role models that, by their extraordinary accomplishments and bravery, have positively impacted their communities and even the world. 
 Here are my top three role models and inspirational women:  
Maya Angelou  
 Poet, dancer, singer, activist, and scholar and world-renowned novelist Maya Angelou was most known for her innovative writing style. Her most famous work that inspired me was her poem, "Phenomenal Woman: Four Poems Celebrating Women." 
 It is a book of poems that expresses the characteristics of true beauty are self-assurance all while being comfortable in your own skin. She's shown me how critical it is to love myself unconditionally and stop allowing the toxicity of society to affect me.  
Sojourner Truth  
Sojourner Truth was an abolitionist, women's rights activist and preacher who spoke out against the injustices that affected minority people. Her most famous speech, "Ain't I a Woman," was a speech given at the 1851 Women's Right Convention to convince people that all women, regardless of race, should be treated equally and have the same rights as men. She has demonstrated that if you use your voice and talents to fight for what is right, if you want it and work for it, it's already yours.  
Theresa tha S.O.N.G.B.I.R.D.  
 Theresa Michelle Wilson is a musical, lyrical, and theatrical alchemist. I was introduced to her from her appearance at the 2019 Trumpet Awards of her recitation of "You So Black," one of my favorite poems today. Theresa was trying to help her audience understand that black is beautiful, and our black can be more powerful than we imagine.   
These amazing women have shown me that being a woman means being more than a wife, a mother, a caretaker, and much more. Being a woman is having the strength and confidence to speak out for oneself. It means claiming ownership of my body and choosing my own identity. It also means having a strong mind and being both compassionate and fierce.    
Leave a Comment
About the Writer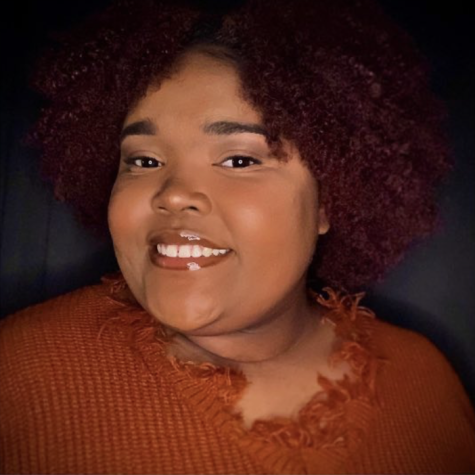 Tiera Rivers, Graphic Designer
Hello, my name is Tiera Rivers, I'm from Lexington, SC. I am a senior at Coastal Carolina majoring in graphic design and minoring in art history. I am...