Women's basketball overpowers Dukes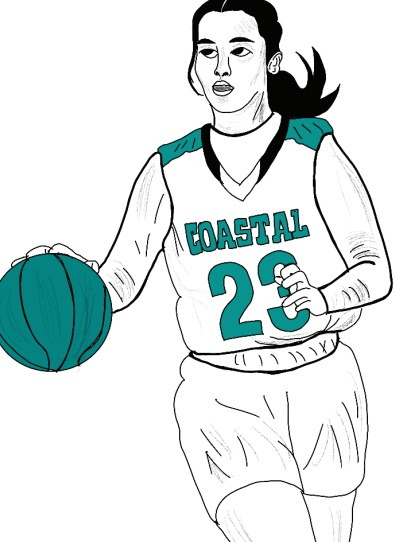 The Coastal Carolina University (CCU) women's basketball team defeated the James Madison Dukes (JMU) 79-64 on Jan. 26. This was a record-breaking game as the team defeated the dukes for the first time (previously 0-2) and surpassed their Sun Belt Conference record from the previous season.
Thursday night's game was monumental for the Chanticleers, giving themselves a 10-10 record overall and a 5-4 record in the conference. While CCU managed to keep the eighth rank in the Sun Belt, JMU holds onto first.
Three players were commemorated at the game as the night celebrated international players. The players include junior Helena Delaruelle from Enghienles-Bains, France, sophomore Angie Juste-Jean from Montreal, Quebec, and graduate student Miriam Recarte from Pamplona, Spain. Recarte was also celebrated before the game for accomplishing her 1,000th career point.
Graduate student Aja Blount continued her reign as the leading scorer for the team with 20 points to her team's final score. Aside from Blount, senior Deaja Richardson scored 20 points, making more than half of her 3-point attempts. Supporting the top scorers, sophomore Arin Freeman put up 11 points and redshirt freshman Anaya Barney added 10.
Starting the game off , the Chanticleers were trailing 10-11 at the end of the first quarter. Things started to look up at the end of the half, with the Chanticleers up 31-24. They managed to keep an edge over the Dukes, sustaining the lead for the rest of the game and averaging 23 points a quarter.
Coastal was most effective from the free-throw line, averaging 76% of their shots. 3-pointers were also a big-scoring factor for the Chanticleers, making 48%. Richardson seemed to be right at home behind the 3-point line as she scored the majority of them for the team.
Unfortunately, tension started rising in the fourth quarter when Richardson had to leave the game for a few minutes with a potential injury. She returned to the game, but there was also fear for sophomore Arin Freeman when she slid across the court. Thankfully, she also returned safely.
The Coastal Carolina Chanticleers will be looking for another win, but this time on the road when they travel to Norfolk, Virginia to face the Old Dominion University Monarchs on Jan. 28.
Leave a Comment