Banned book discussion
"Gender Queer" novel sparks controversy
The Banned Book Club held part one of a two-part discussion panel in the Bryan Information Commons atrium on Jan. 25 to bring awareness about the dynamics of book bans.
The event highlighted a particular book, Gender Queer by Maia Kobabe, as its focus for the discussions around the topic.
The panel consisted of three speakers who each spoke on different aspects of book bans such as data analysis and factors regarding content, and what books are targeted and why. The panel consisted of Anna Mukamal, an assistant professor of English and digital culture and design, Meredith Ritchie, a Horry County Schools librarian, and Loren Mixon, a Coastal Carolina University librarian. Each panelist had their own segment which enlightened students and other attendees about the unknown controversies surrounding book bans and challenges.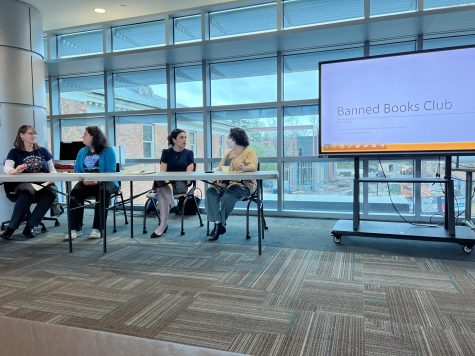 Peyton Barrett, a senior who attended the first event back in September, was encouraged by professors to go and was surprised by what she learned.
"I learned about the geographical problems going on in South Carolina on book challenges, our governor's stance on implementation of the programs," Barrett said. "I wouldn't known the problems that LGBTQ+ books have. It's a societal issue based on gender bias and heteronormativity that I wouldn't have been aware of if I didn't come to these events and meetings."
The programs and issues concerning LGBTQ+ books that Barrett mentioned were brought up during the panel. LGBTQ books were discussed as they are the most challenged and banned genre of books.
During Mukamal's segment, she explained how the banning of LGBTQ novels has nothing to do with sexually explicit content, as many of the top banned books were banned for displaying homosexual relationships alone.
Students were also surprised at how libraries and librarians are involved as they fight back against book bans and challenges. Senior Nikoli Ellison attended the event due to his interest in Gender Queer.
"The book touches a lot on asexuality which interests me, but seeing library science act as a social function is really interesting as well." Ellison said. "I also like how they different experts from the DCD professor, the HCS librarian and our own librarian to discuss the different topics and the book."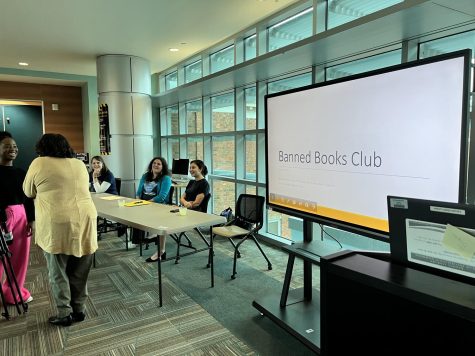 Part two of the event will take place on March 29 at the same location. The discussion will go into more depth about how Gender Queer and its content got challenged in the first place.
Tabitha Lowery, assistant professor of English and co-creator of the club, said she encourages students to watch social media to stay up to date and follow Coastal English and @dcdatccu on Instagram for more information concerning the ongoing talks about book bans.
Leave a Comment