Justice through prison food
Students learn what life is like for underrepresented populations
Students had the opportunity to learn more about justice for women in prison cells on Jan. 25 at the "Un/Making" event.
Assistant Professor of human services Ami Stearns hosted the event and taught students from her experience studying and volunteering at prisons.
"When I was in graduate school, our professor took us into a women's prison to do a survey," Stearns said. "I had such an incredible time talking to those women and finding out what their challenges were."
From there, she volunteered in prisons and jails since 2012 and has conducted research, done programs, and held many meetings. She stumbled upon collecting recipes when volunteering for a jail in Louisiana and researched other cookbooks to learn about food for women in jail.
At the event, she said that these women can be given food that is unhealthy, unsanitary, expired or rotten.
"It is very important that we see them as humans," Stearns said. "That's a step towards recognizing the problem we have with incarceration."
Students got resourceful as they made no bake cookies from crushed Oreos, oatmeal packets and peanut butter at the event. With no oven available, students saw the challenges imprisoned women would have to overcome.
"We can go to the store and buy some cookies, but this is what they have to do to just feel human while they're in prison," senior Jorredan Moultrie said.
Stearns went on to explain how women in prisons are not wasteful at all. Something as simple as a chip bag has been used as a mixing bowl, and empty cans are also used as pie crust rollers. Additionally, they barter with each other for food and services.
"I think it is important to share stories and experiences from different groups that you don't get to see represented," sophomore Sean Marsala said.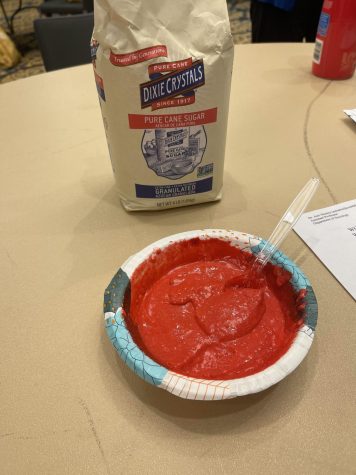 Stearns also spoke about the attitudes in prison. She said that food is important to benefit the collective and not just the individual. Communal thinking was a notion she talked about and recommended students to consider the idea going into their daily lives.
Leave a Comment