Benson reflects on the passing of former President Ronald R. Ingle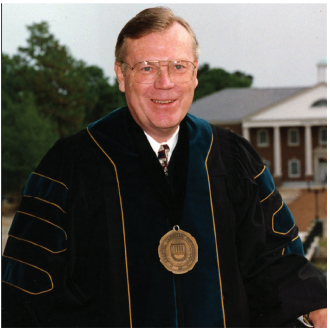 The recent news of the death of former President Emeritus; Ronald R. Ingle prompted current President Michael Benson to reflect on Ingle's impact on the entire campus community.
Benson said Ingle was a key player in the independence of Coastal Carolina University from the University of South Carolina by being able to enlist aid from the state and donors. He said during Ingle's tenure the campus grew dramatically in infrastructure and enrollment. Benson said he believes the CCU community can honor the Ingle legacy by continuing traditions of the university and continue to build on those traditions and values.
"He really wanted us to make a name for ourselves," Benson said. "And I think we're doing that."
He said Ingle also established the football program during his tenure.
"He came to every single [game] and he sat in the same spot on the front row in the box, and took it all in," he said. "I grew really fond of him."
Benson said Ingle wanted to be known as somebody who listened. He said Ingle was very involved in the CCU and Conway community.
"I think one of Ron's characteristics was that he was a good listener. He made people feel like their opinion was important because it was," Benson said.
According to a CCU press release, President Emeritus Ronald R. Ingle passed away on Jan. 18, 2023. The release said he became the university's first president in July of 1993 and his 14-year presidency marked a period of great institutional growth.
Benson said the Ingle family will be having a service at their church on Feb. 18. He said a celebration of life event will be held on campus at a later date in March.
Leave a Comment