Life in Germany: Pit stop in Krakow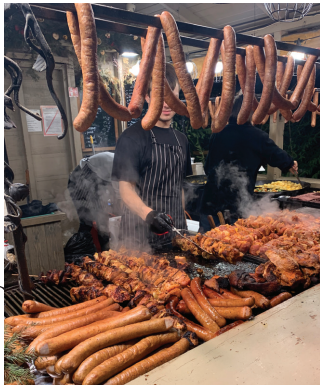 I chose Germany as my study abroad destination since I had already studied the language and culture for a few semesters. However, Poland has always piqued my interest since my family has Polish roots, evident by our last name.
A few weeks ago, I had a friend from home visit me in Germany. We sat together thinking of what we should do when we both came up with the idea of visiting Poland. We planned a trip to Krakow and went on our journey.
Since it was near Christmas, our plane had layovers that were kind of unimaginable. Our first night was in Romania where we stayed at the airport and the next morning we flew to London. There, I visited my first ever China Town, we walked the city, saw Buckingham Palace, and after craving Mexican food for 10 months, walked to a restaurant just for it to be closed and us ending up at a pub for the evening.
Later that night, we found ourselves sleeping in the airport again until we had our flight to Krakow in the morning.
When we arrived, we easily navigated the transportation and headed to the town square. Now, during my time in Europe, I have traveled to many cities and seen various building structures or designs. However, Krakow honestly had the most breathtaking square I had ever seen.
The Main Market Square has a huge building in the middle called the Cloth Hall, which was once held as a trade center but was then housing a part of the city's Christmas market. The other buildings surrounding it are St. Mary's Basilica (a temple), the Town Hall Tower and the Church of St. Adalbert.
After walking around, we tried traditional Polish dishes including kielbasa, pierogies, fried cheese, garlic soup, pork knuckle and sweet Polish candies. My family makes some of these dishes at home, but you cannot make the slightest comparison between Americanized Polish cuisine and the real thing until you have tried it.
On our second day, we visited the Wawel Royal Castle and the jaw dropping Wawel Cathedral where we just stood in awe. Then, we finished the trip with some souvenir shopping.
Poland was far too short of a trip. I will be making a trip back someday to visit the Auschwitz Museum/Concentration Camp, discover other cities, and of course devour more of its delicious cuisine. This was one of my favorite trips, spun out of spontaneity. I'm excited for the remaining adventures I have planned during my time in Europe.
Leave a Comment