[Represent]atoire project continues: Guest composer Valerie Coleman inspires CCU musicians
Renowned flutist and composer Valerie Coleman visited Coastal Carolina University to perform some of her work alongside students and faculty on Friday, Nov. 11.  
Assistant Professor of Woodwinds Eric Schultz said the [Represent]atoire Project's vision has continued since its debut in April 2022 with the Amanda Harberg recital. 
"The idea of the [Represent]atoire Project is to perform the music of living people who were not part of that kind of traditional canon, you know, the repertoire that we play," he said.  
Schultz said the project stemmed from initiatives of students such as Diamond Gaston, who said she discovered Coleman while struggling with her embouchure, the term that refers to a flutist's mouthpiece technique, during flute lessons in middle school. She said after searching for hours for examples of lips for her embouchure, she eventually came across video of Coleman.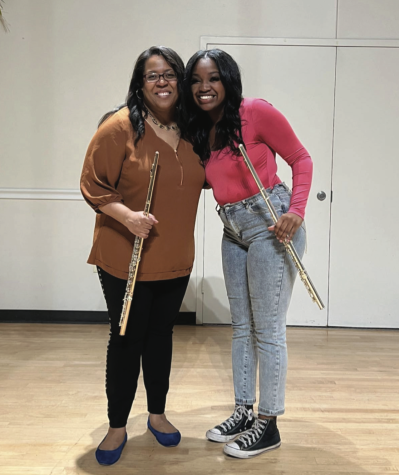 "I had to search for hours to find someone who looks like me," Gaston said, "and for her to be here, to not just be here, but to play with her, work with her, it means a lot." 
Other students like Hailey Cornell, who discovered the clarinet sonata that sparked the initial Harberg recital, echoed the sentiment of the struggle to find musicians who are representative of her. 
"Something that strikes a lot of people when I say it is that, in the 10 years that I've been a musician, just last year was the first time I got to play a piece of music written by a woman," Cornell said. 
Rachel Huggins, a percussion student, said composers like Coleman are an example to them that women musicians can succeed. Huggins said part of the project is bringing figures like her to the forefront.  
"We want to bring the repertoire to us instead of forcing young musicians who don't fit the status quo to have to seek it out themselves," she said.  
Schultz said personal connections between students and composers fuel the project as it is the power behind it. 
"It's these communities that have never seen themselves in the country club that we call music. It's just time we opened those doors and let more people in," he said.  
Unlike the Harberg recital, the Coleman performance is the first instance of the project to feature an in-person appearance of the composer. Professor of Music Phillip Powell said students had the opportunity to take a masterclass with Coleman during her visit.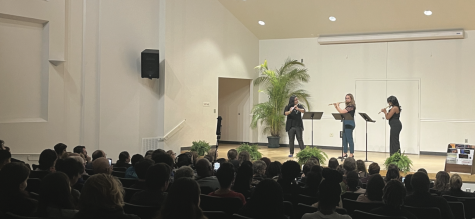 "The cool thing about Valerie Coleman is she'll be here for a while working with students," he said. "To have people perform and then working with students is so cool." 
Jessica Pelltier, a flute teaching associate who has worked with Coleman before, talked about the importance of students being able to work with living composers.  
"It's not that often that we get Grammy-nominated artists," she said. "That's a huge opportunity for students studying from a musician living right now." 
Not only do students feel this connection, but the composers do as well. With Gaston's inspiration from researching Coleman having kickstarted the project, Coleman said the inspiration goes both ways.  
"I have no words on it. It strikes me to my core, and I am just grateful to be in a position to do that," she said. 
Coleman said Schultz had contacted her before the pandemic started, so her visit was delayed. When she was contacted, Coleman said she was excited for the project's potential. Coleman spoke about how this type of initiative is something she strives for in her career. 
"I'm really interested in advocating for composers and flutists, particularly underrepresented composers and flutists, instrumentalists, because that's where I came from," Coleman said.  
She said the most difficult aspect of her career was the feeling of doubt, both from herself and those around her. Still, Coleman emphasized the importance of artists to take risks, even if it could be alienating. She said studying artists who had a turning point where they launched ideas can help an individual develop the same mindset.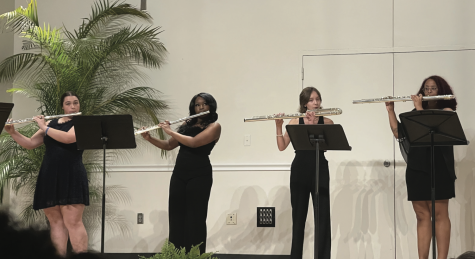 Schultz said he is confident in the project and that he hopes its influence goes beyond Coastal.  
"I hope people just steal this idea freely and just do it," he said, "and I hope this proliferates around the country." 
Leave a Comment