Urine for a great show: "Urinetown: The Musical" sells out weekend shows
The Department of Theatre presented "Urinetown: The Musical," a story about a dystopia where a megacorporation controls the public toilets and requires all citizens to pay to pee.
The musical's limits set on toilets was created as a solution to the town's diminishing water supply. Those who disobey faced harsh punishment and exiled to the infamous Urinetown.
A puckish banter between Officer Lockstock, played by Cody Lewandowski, and street kid Little Sally, played by Chloë Wendler, broke the fourth wall and acknowledged the absurdity of the plot. This invited the audience to laugh along with the musical's satirical commentary on capitalism.
The production of Urinetown excelled in all theatrical elements, from light, set design, and costumes, to acting, singing, and choreography.
"The energy was unbelievable. The choreography was spectacular, highly professional," said Tim Koch, Coastal choir director. "It was very well rehearsed. I really enjoyed the show."
The leads' voices soared through high notes with ease while vibrant theatricality radiated through their facial expressions and body language. Brenna Kellem's performance of Penelope Pennywise, the warden of Public Amenity No. 9, embodied an authoritative businesswoman and her unwavering soprano vocals amplified the character's strength.
CEO Cladwell, played by Cameron Woodson, relished the riches provided by the public amenities and implemented an increase in prices. Bobby Strong, played by Lucas Hallauer, emerged as the play's hero. Filled with the naïve confidence of young love, Strong led a revolution against oppressive forces to "Fight the Sewage System!"
Hallauer's performance, flush with endearing passion, can be attributed to the comradery of the cast.
"This is our first show since bouncing back from COVID, and it's really nice to be back and just doing such good theater," Hallauer said. "The ensemble in this show was really working their butts off. They just don't stop."
The controlled chaos of the choreography, developed by Associate Professor of Theatre Adam Pelty, was delivered with palpable energy. The cast's embellished jazzy dance moves delivered comedic poses representative of having to pee that sent the audience into shameless giggles.
The recycling of ensemble actors was cleverly masked with costume design that distinguished the Urine Good Company employees from the oppressed townspeople. The townspeople loitering around Public Amenity No. 9, the dirtiest toilet around, sported tattered layers of mustard yellow and brown. The colors of human waste represented in the eyes of the wealthy.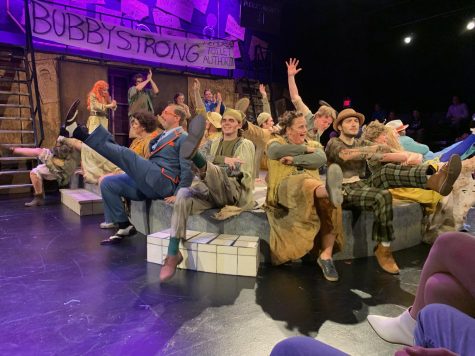 In contrast, rich characters, dressed in a blue and purple color palette with orange piping around lapels, established a popart visual. This costuming exaggerated the devilishly clean-cut persona of the corporate elite.
"Our inspiration was German expressionism," Assistant Costume Designer Allie Hildebran said. "It was mostly student driven and we all kind of collaborated to make this one beautiful thing."
The remaining "Urinetown: The Musical" performances are sold out this week from Nov. 9-11.
Leave a Comment