Life in Germany: Celebration of holidays
One of the best things about leaving your hometown and exploring somewhere new is all the new people you meet, and the experiences you make.  
This semester, I moved out of the student dorm and into an apartment with three other flat mates. One of whom is a woman from India. She is also an exchange student and quickly became one of my closest friends.  
Each year on Oct. 24, India has a national holiday called "Diwali."  This holiday is known as the Festival of Lights and is the most important holiday for those who practice the Hindu religion. Since it is such a big tradition in India, our exchange students wanted to give everyone else a taste of their culture.  
My flat mate arranged a dinner at our place and invited over 20 people; some international students, some German students, even professors showed up. Her and the two other exchange students from India made traditional food for everyone.  
It consisted of a chicken marsala with spices, a carrot recipe that was sweet like dessert, and of course, rice is paired with every meal. That night we sat together on pillows and blankets on the floor of my kitchen. We were dressed in traditional Indian clothing, eating food with our hands and dancing to music that instantly elevated everyone. 
These experiences are priceless. 
Just as I get to experience other culture's traditions and way of celebration, I also get to share my own. So, I threw a Halloween celebration for everyone to partake in. At least half of the international students have never celebrated Halloween, so I wanted them to experience it.  
We held a "ladies' night," where all the females came over and we made fall-inspired drinks and painted pumpkins. Everyone enjoyed it and painted things ranging from cartoon characters to silly faces to pretty designs.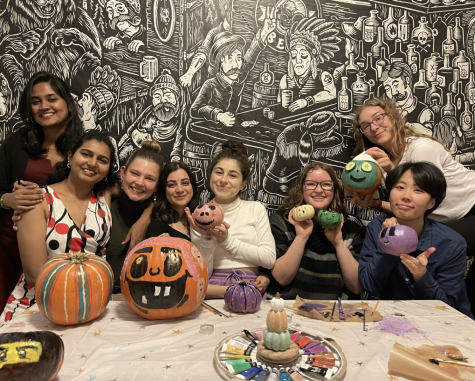 The idea behind the pumpkin painting was to create decoration for the Halloween celebration the following night.  
On the eve of Halloween, everyone showed up to my apartment in costumes; some homemade, and some store bought. The Indians who had never celebrated the holiday were dressed as vampires and cats. Our student from Korea was an alien in a green jump suit, and a student from Georgia was dressed as a disco queen. 
This is the life you find while traveling. You will meet people from all over the world who will teach you about things you've never seen or heard before. 
One day you can be dancing around your kitchen with people who live on the other side of the world, and the next you are on a bus traveling to Paris to stay at a hostel where you meet people from your home country and exchange stories about all the adventures you've embarked on. 
I'm coming to learn that life can be so enriching and full just by the people you meet. See you next time. 
Leave a Comment