Farmers market showcases local artisans: Students line up to get coffee, jewelry, soap and more
The farmers market returned to campus for the second time this semester on Wednesday, Oct. 12. from 9 a.m. to 2 p.m. on Prince Lawn. Sustain Coastal puts on the farmers market almost every month to bring local vendors to campus.
The farmers market event is combined with Sustain Coastal's Sustainability Fair to teach students about what the organization does to promote sustainable resources. They encourage shoppers to bring their own reusable bags.
The local vendors who participate bring unique items including handmade jewelry, home decorations, homemade desserts and dips and locally owned coffee. Local produce and plants were also available at affordable prices.
Some of the local businesses in attendance included Stacy's Kombucha, Mountain Man Honey and Goods, and A Coffee Movement.
Local artisan at the market, Debbie Ann Hicks, makes art out of dried gourd plants. She said she was inspired by the idea while she was studying at the University and calls her business "O Gourdie Me".
"I was here at Coastal studying art. A man gave me a gourd and I painted it. I put it on Facebook and nine people tried to buy it from me," Hicks said. "I knew this was the direction I was going to go when I graduated."
The vendors for the market are registered through a non-profit organization called the Waccamaw Market Cooperative. Most of the same vendors at the Coastal farmers market also attend the other Waccamaw Markets located in Surfside, The Market Common, Murrells Inlet, North Myrtle Beach, Georgetown, Pawleys Island and downtown Conway.
"I enjoy being with the Waccamaw group. The things they do here are pretty awesome," Hicks said.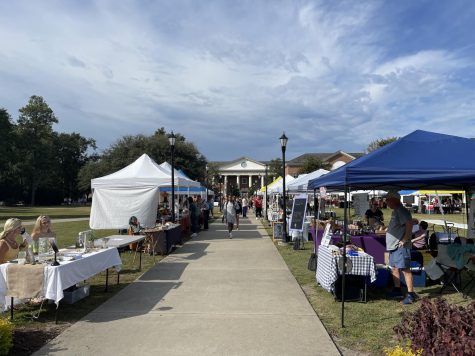 The farmers market gave vendors a chance to showcase their art, and gave students, faculty and staff the opportunity to try new foods and view one-of-a-kind, homemade products.
"I'm a commuter, so it's great to know local businesses. It's also great for people who aren't from Myrtle Beach, so they can branch out and not be so isolated on campus," Christopher Sampson, a sophomore at CCU, said.
Even though the farmers market started at 9 a.m., shoppers filled up the space quickly. Prince Lawn was full of vendors and the Coastal community by the time it began.
The market attracts a crowd until they have to pack up at 2 p.m. "There are a lot of handmade things and a uniqueness and freshness to any of the produce and products that are sold," Sophomore Tony Brooks said. The next farmers market on campus is scheduled for Nov. 2 on Prince Lawn from 9 a.m. to 2 p.m.
Leave a Comment