A night of music
Enrico Elisi, an Italian pianist, made the walls of Edwards Recital Hall come alive with sound on Monday, Sept. 12.
Elisi played an ensemble of selections from 16th and 17th century artists during the recital. He performed on a Steinway & Sons "Spirio" model piano, a high-resolution instrument capable of recording and playing live performances with the ability to stream them to other models.
What made this event so unique and historic is that Elisi's entire performance was streamed to other Spiro models within the state of South Carolina. Philip Powell, professor of piano, was the organizer of this event.
"We are the only university in all of North and South Carolina to have a Spirio model piano, and we are actually lucky enough to have two of them," Powell said.
During Elisi's set, he prefaced his upcoming songs with historical background and context into the melody and/or style he believed to be encapsulating. Establishing the historical connection to music is crucial to Elisi.
"I think that playing in schools is so great because you have students who are studying some of these very works that we play," he said.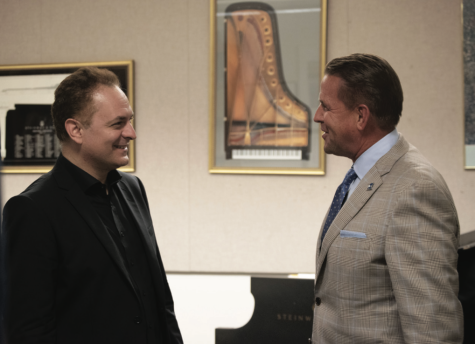 In attendance to his performance, other than the packed theater of patrons, was Coastal Carolina President Michael Benson and the President of Steinway & Sons himself, Gavin English. The crowd itself was diverse, with some students and local attendees, all with the same interest in music. Elisi said he loves performing at universities because the audience can meet one another regardless of what they're studying.
For any students who are interested in learning piano or getting involved in lessons, the music department is open to everyone regardless of their major.
"We want more students coming to these events and to the music department in general," Powell said. "Students should take advantage of this amazing technology we have here on campus."
Leave a Comment