Megan Brouse Scores Brace as Women's Soccer Draws against Charleston Southern
After starting their season 0-2-1, the Coastal Carolina Women's Soccer team took on Charleston Southern in an exciting home matchup on Aug. 31.  
The game was spirited early on, while both teams were physically battling for the ball. Coastal's Carmen Gutierrez was booked at the 12:29 mark in the game, receiving a yellow card for a hard foul. The physicality continued as Charleston Southern player Kayla Reese also received a yellow card for a foul she committed in the 17th minute.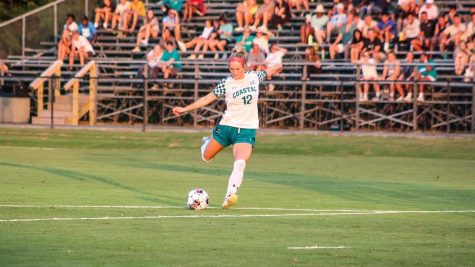 In the 14th minute, Charleston Southern's Bri Robinson put the ball in the back of the net after it fell to her in the box. Robinson's goal put the Buccaneers up 1-0 early in the contest. Coastal's Megan Brouse tied the game at 1-1 in the 31st minute with a clean finish from Taylor Tolson. The teams went into halftime with the game tied at one goal apiece. 
The second half was just as action-packed as the first. Brouse's second gave the Chanticleers the lead in the 51st minute after putting away a pass from freshman, Julia Ziegenfuss. After 30 minutes of back-and-forth play, Charleston Southern's Gracen Beilstein took a high-arching shot from 35 yards out, that looped over Coastal goalkeeper Katelyn Kellogg. This tied the game at 2-2 with eight minutes left. 
In a final push to score, two shots by Coastal's Maggie Mace and Gutierrez in the 87th and 88th minute, respectively, were both saved by Buccaneers' keeper Sara Curtis. With just under a minute left, Brouse, looking for a hat trick, controlled the ball near the top of the box and took a shot that just missed and hit the crossbar. The game finished with a final score of 2-2. 
Leave a Comment