Students gather to celebrate 10th Anniversary of HTC Center
During the last 10 years the HTC center has provided an outlet for Coastal Carolina University students, staff and faculty to improve their minds and bodies, and Tuesday's celebration was an ode to continue that mission.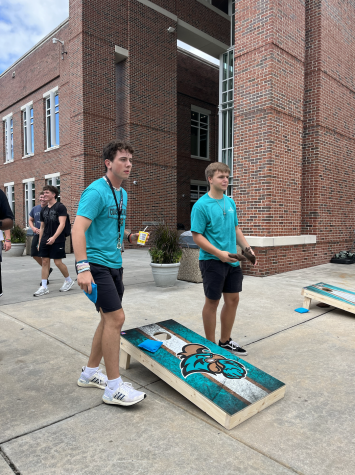 Tuesday's celebration of the HTC Center's 10th anniversary was the result of student's demands for a modern recreation space. 
The HTC Center on campus wouldn't exist without the help of students—specifically our student body government. 
"The student body at Coastal is so truly powerful, impactful– whether it's issues such as parking or 'hey, we need a new arena and new gym'," Ryleigh Gregory, VP of finance, said. 
Trevor Arrowood, former SGA president, was not able to make an appearance at the event, but the idea for a new facility started with him. He brought the idea to student senate back in 2012 and gave input from the student body to the architects to make the idea come to life. 
CCU celebrated the anniversary with giveaways, speeches, and activities. The gathering was held 10 days after the initial anniversary of the building, which is Aug. 20, 2012. 
The HTC Center had its many featured activities set up outside for students' use, such as cornhole, street hockey, and basketball. The Outdoor Center had tents set up, along with students kayaking and paddle-boarding in the HTC Pond. Inside the building is where students could sign up for club sports on campus, such as rugby, swim, soccer, and many more. 
Students also enjoyed free slushies and acai bowls, along with free tank tops for completing the scavenger hunt to visit a certain number of tables at the event. 
Jody Davis, director of university recreation, said during a series of speeches that the building has had more than two million visits and counting since the opening.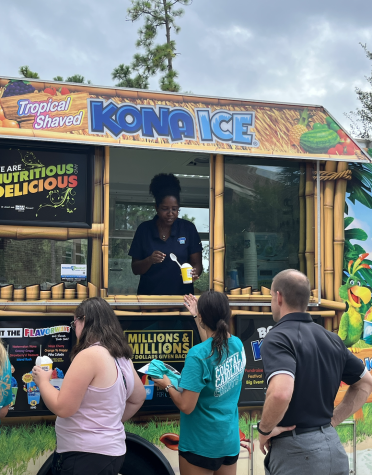 Davis and others spoke at the HTC Center to thank those at HTC for sponsoring the building, and students that made it possible to happen. Others who spoke were: 
Michael T. Benson, CCU president

 

Delan Stevens, board of trustees chairman

 

Mike Hagg, chief executive officer for HTC Inc.

 
and Ryleigh Gregory, SGA VP of finance

 
Leave a Comment