What students need to know about Russia's invasion
Students and faculty said recent attempts to educate the campus community about the reality and predictions of the invasion of Ukraine have been successful. 
A panel held on March 22 in the Johnson Auditorium discussed the ethics and politics of the conflict. The panelists featured were experts in their field of study, ranging from political science to philosophy. Many of the students who attended the panel were students of the experts or simply wanted to be educated.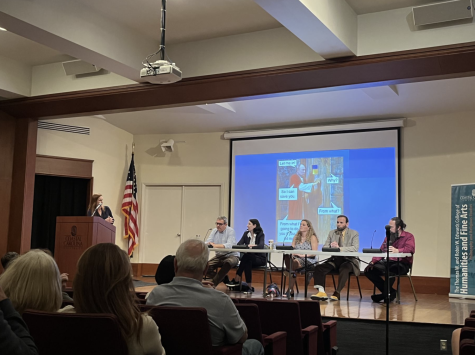 It's important to make the world a better place by understanding each other's perspectives, said Christopher Panasiuk, a senior intelligence and national security studies major, who attended the event. He said he was looking forward to hearing the panelists' viewpoints on the topic.  
"I think it's hard not to care or at least have your attention drawn towards the topic," Panasiuk said. 
Russia and Ukraine have been a common topic in intelligence classes, said Brenden Luto, also a senior intelligence and national security studies major. He said he attended the panel because it's a relevant topic. 
"I think that everyone should be aware of what's going on and what we can do," said Gianna Cogoni, junior national securities studies major. 
The panel began with a history lesson from Christopher Gunn, associate professor of history. Gunn discussed the history of Ukraine, dating back to the establishment of the Soviet Union. 
The tactical aspect of the conflict was an important point of discussion for Joseph Fitsanakis, professor of intelligence and national security studies.  
Fitsanakis said there is no way Vladimir Putin could take over Ukraine at this point, a small part of the country at best. He said Russian troops have become so disconnected, they are simply wandering around at this point. 
"So far, I can describe the Russian performance in combat terms as unimpressive. No question about that," Fitsanakis said.  
Whether Putin and Russia will come out ahead is still up for debate, said Jonathan Trerise, associate professor of philosophy.  
Trerise said he has heard both arguments—that Putin has already won, versus Putin has already lost. He said Putin has lost because the invasion took more resources and human lives for his troops to fail. On the other had, Putin has won in the sense he has demonstrated to the world he is fearless and doesn't care about the consequences of his actions. 
"It is in fact, not at all meaningless to talk about the morality of war," said Trerise. 
The Cold War never ended, said Mariam Dekanozishvili, associate professor of political science. Fitsanakis added to her point and said there is no way to dismiss the idea of NATO involvement, regarding the use of chemical and nuclear weapons. 
Students in attendance said they were not worried about a U.S. draft anytime soon because the chances of the U.S. getting involved in the conflict is unlikely. 
"[China is] going to wait until the right moment to intervene and play the role of the up-and-coming power and let the others fight it," Fitsanakis said. 
Dekanozishvili said it's unlikely Putin will simply pull out of the conflict out of fear of reputational death. She said there are four negotiations Ukraine and Russia could settle on: 
Ukraine neutrality– they could never join NATO

 

Some sort of disarmament

 

Protection of the Russian language in the Ukrainian constitution

 
Ukraine to recognize Crimea as a part of Russia

 
The consequences of Russia's invasion of Ukraine were on the mind of Nataliya Alekseyenko, a Russian lecturer of language and intercultural studies. She said many of her friends are being oppressed simply for being Russian. One of her friends is a scientist, and she said he is not allowed to converse with other scientists and is excluded from being published in any journal. Another one of her friends is a tennis player who recently played in the U.S. Open but had to denounce her citizenship to play. 
Alekseyenko said the hate speech and vandalism directed toward the Russian people is not completely justified since not everyone voted for Putin to be in power. She said it's unfair to blame all Russians for the propaganda being fed to them.  
The panelists encouraged students to know their geography, to pressure the U.S. government to follow international law, and to understand this invasion is deeply wrong.
Leave a Comment