Men's tennis dominates in last match of regular season
The Chanticleers closed out their season with a much-needed win, a 10-10 overall record, and a 3-3 conference record. They were dominant at home, posting an 8-3 record when playing at Stevens Tennis Complex. They finished fourth in the Sun Belt during the regular season. 
On April 9, Coastal Carolina's men's tennis team took on conference opponent Georgia Southern in the last match of regular season play.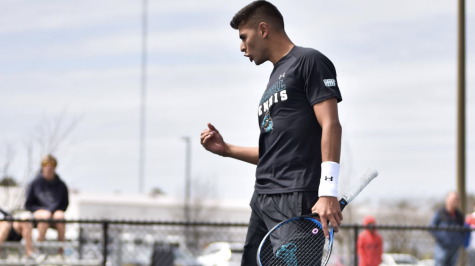 In doubles play, partners Federico Garnier and Daiki Tanabe coasted to a 6-1 win on court three. On court two, Bastien Huon and Niccolo Rossi also won 6-1 to give the Chanticleers an early 1-0 match lead in the contest.  
For singles play, Rossi set the tone with a 6-1, 6-2 win on court five. Tanabe then won his match 6-2, 7-5 to give the team a 3-0 overall match lead. Diego Giraldo lost the first set 4-6 but bounced back and secured the victory for the Chanticleers by winning the next two sets 6-2, 6-2.  
The Chanticleers also had a few players earn Sun Belt Conference honors. Huon was voted to the Singles First-Team All-Sun Belt, and Steve Mundt and Carlos Berna Ruiz earned Doubles Second-Team All-Sun Belt honors.  
The team looks to add some silverware as they go into the Sun Belt Men's Championship Tournament fresh off a win.
Leave a Comment