Evan Peters portrays infamous cannibal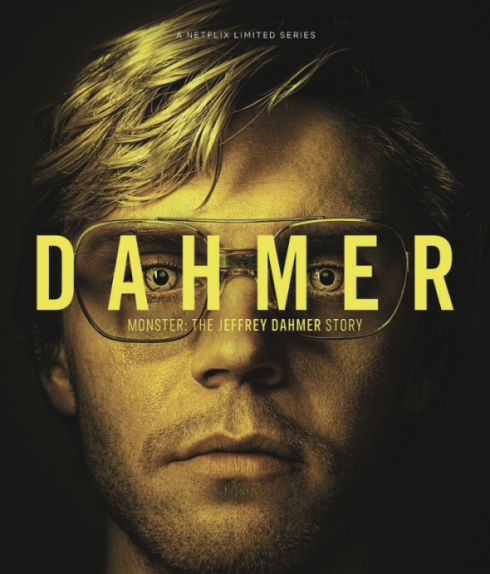 In this chart-topping docuseries "Dahmer," the story of the cannibalistic serial killer Jeffrey Dahmer is told in
an unchronological and multi-layered performance. The show is a Netflix Original recently released in September– just in time for Halloween.
Dahmer secretly murdered 17 men from 1978 to 1991. Without a doubt, a person like this does not deserve recognition from the public, but his story had rose to popularity due to the heinousness of his actions.
The creators of the show planned out every aspect from soundtrack choices to properties of the atmosphere, and amusing switches of emotion. The show is a Ryan Murphy production, who is reputable for the series "American Horror Story." His talents truly shined during the well-executed period switches of directing Dahmer's life and explaining his evolution as a person, while not compromising the viewer's understanding of the sequence of events.
Elements of the plot involving his crimes are factual and exposed portions of his victim's identities.
The opening scene shows Evan Peters at a bar looking for potential victims and eventually brings a man home until he escapes and contacts authorities. Watching this reenactment was excruciatingly uncomfortable because it was based on real-life traumas and testimonials. The choice made by directors to open the show with the arrest of Dahmer was bold and shocking, but they later revert in time.
The exploitation in the docuseries of the men Dahmer targeted feels immoral and extremely personal to view. I was reassured in my discomfort when I saw the show sparked backlash across the internet, amassing 918,000 engagements on Twitter for this reason.
Peters is versatile in his display of emotions during the rollercoaster of events that take place. The way he accurately portrays Dahmer in different circumstances humanizes him in an unsettling way.
Overall, the production is well put together and entertaining. The actors were cast perfectly and fulfilled their roles with deft. My personal favorite was Niecy Nash as the concerned neighbor.
The show contained a lot of tension and the perfect amount of gore– not on a "Saw" level, but still fun to view for true crime lovers. On the contrary, the families of his victims, unfortunately, publicized and the crew's massive paydays based on their trauma. This makes me want to not promote the series.
View Comments (2)